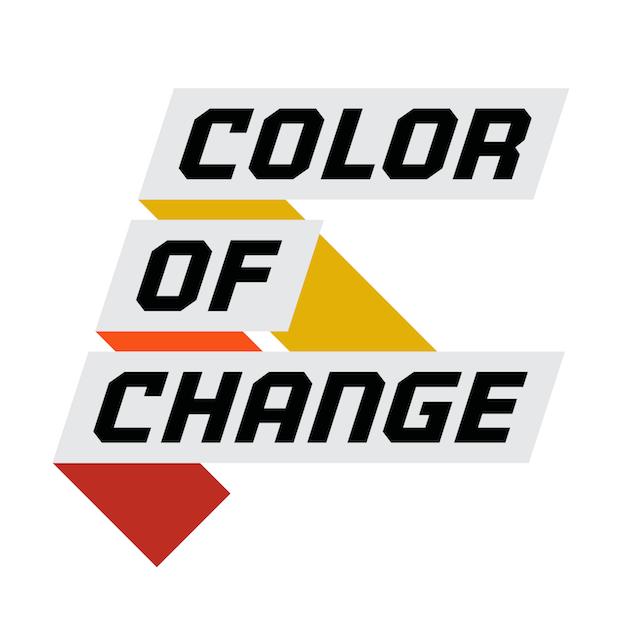 Color of Change
For ten years, Color of Change has been on a mission to end the injustices faced by Black people in America. They are now the largest online racial justice organization with over one million members with the goal to encourage humanity over hostility through the promotion of economic justice, criminal justice, media justice, and the use of voice and power.  
Color of Change takes an integrated approach to racial justice.  They believe racism survives because it is reinforced by multiple areas of our society: racist media, political inequality, and economic inequality.  These areas reinforce each other and continue the cycle of racism in America. Color of Change addresses these areas with economic justice, criminal justice, media justice, and the use of voice and power.  What do each of these strategies involve?
The goal of economic justice is naturally influenced by multiple factors.  In order to achieve this, Color of Change works to change the negative and dehumanizing way Black people are portrayed.  They want to change the criminal justice system, which excessively targets minorities for mass incarceration and profits from prison labor.  Black people are also more likely to be victims of predatory consumer products, discriminatory workplace practices, and cuts to investments in their local infrastructure.  All of these factors contribute to income inequality and economic injustice.
One of the biggest, and most damaging, flaws in our criminal justice system is that it allows corporations to reap enormous profits off the backs of millions of Black people currently in a system that incentivizes racism.  The media feeds stereotypes, making it easy for politicians to blame minorities for society's problems. Economic inequality leads to weak communities with a lack of political influence and representation. Color of Change works to reform a system that profits from racism.  
Color of Change also focuses their efforts on Media Justice.  They want to end negative portrayals of Black people that provoke hostility and ensure new technology and platforms are not used to repeat past cycles of spreading hate.  Color of Change endorses the idea of open internet access to all people in order to help make their voices heard.
Last, but not least, Color of Change works to increase power and voice among Black people.  When politicians are held accountable through community engagement and voter turnout, they are more likely to enact policy that helps these communities.  They challenge laws that make it more difficult for Black people to vote and assist black communities in supporting their leaders.
Over the past ten years, Color of Change has used their strong online membership to help remove racist television personalities from the air and to encourage networks to include Black cast members in positive roles.  They have empowered voters and helped exonerate the wrongfully convicted. Current campaigns include bail reform, restoring net neutrality protections, and protecting reproductive rights.
To learn more about the history of Color of Change and their current campaigns, visit their website.  Find campaigns that are important to you and take action, such as signing a petition or contacting a representative.  You can also make a donation to support their many important campaigns.