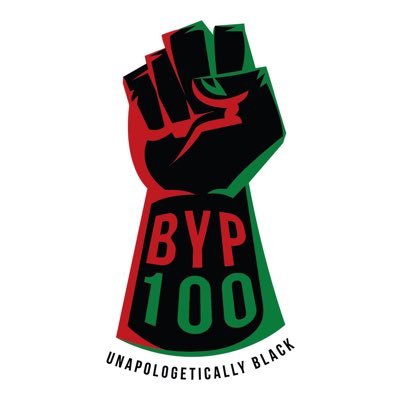 BYP100
BYP100 was formed in 2013. The main stimulating factor behind its founding was the response to the acquittal of George Zimmerman in the killing of Trayvon Martin. Over the next a couple of years, from 2013 to 2015, the group was able to establish subgroups in Chicago, New York City, the District of Columbia, Oakland, and New Orleans. By the year 2016, BYP100 had expanded to Detroit and the San Francisco Bay area as well.
BYP100 grew from the original Black Youth Project. Cathy Cohen, a political scientist from the University of Chicago, along with a group of black activists, drafted the group's mission, vision, and core value statements. Their primary focus is centered on ending systems of anti-Blackness, protecting marginalized groups, and promotion freedom for all Black people. They hope to achieve these goals through organizing, education, advocacy, political reform, and leadership development. BYP100 is committed to uplifting all black people, including, and particularly, those in the LGBTQ community. In fact, they describe the group as seeing the world through a Black queer feminist lens.
Membership in BYP100 is open to black youth between the ages of 18 & 35 years. Members come from all walks of life; students, artists, community leaders, workers, and more. There are currently chapters in major cities across the nation, from California to New York. People who live in cities without a local chapter can become National Members. Supporters outside the membership age range can become Squad Members.
BYP100 has a progressing and specific agenda designed to build Black futures. Reparation is one of their fundamental goals and something the group has continuously advocated it since their formation. They also work to promote universal childcare in order to provide support for working families, particularly minorities who do not yet enjoy equal opportunities and rights. Only with this kind of support can low income minority families work toward raising themselves out of poverty for good.
Increasing the minimum wage is another goal of the Black Youth Project. Families who work full time should not be living in poverty. The current minimum wage makes it impossible for working families to escape poverty. In addition, BYP100 supports the decriminalization of marijuana. Marijuana laws affect low income and minority individuals disproportionately, causing long term adverse economic damage to families and communities.
BYP100 has so far had an impact on anti-Black legislation in Chicago. They hold politicians accountable for their actions and decisions and work with Black Lives Matter to write policies that will improve the lives of Black people.
To learn more about BYP100, become a member, or make a donation, visit their website at www.byp100.org.