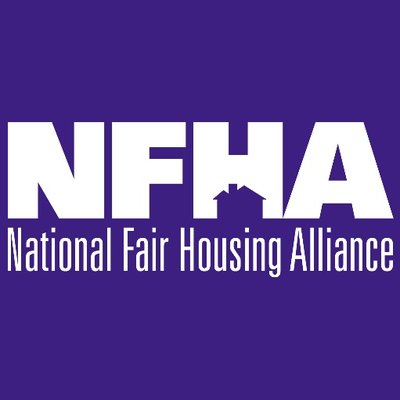 National Fair Housing Alliance
The National Fair Housing Alliance was established in 1988 and is headquartered is in Washington DC. The NFHA works to end discrimination in housing on a national level and strives to ensure equal housing opportunity for all people through leadership, education and outreach, membership services, public policy initiatives, community development, advocacy and enforcement.
Today, the NFHA is a group of more than 220 private, non-profit fair housing organizations, state and local civil rights agencies, and individuals from throughout the United States. The NFHA recognizes the importance of "home" as a component of the American Dream and hopes to aid in the creation of diverse, barrier free communities across the nation.
The NFHA's Education and Outreach program serves an important role in achieving fair housing goals. It notifies consumers about their rights and educates them on how to recognize and report possible discrimination. It also teaches housing providers about their obligations under the law and the benefits of expanding fair housing choices.
To date, the NFHA has:
Created hundreds of public service announcements covering all protected classes under federal law
Developed fair housing materials in eight languages to broaden the audience learning about fair housing issues
Achieved over 4 billion impressions to educate the public about the benefits of fair housing
Received over $93 million in donated media to educate the public about fair housing issues
Today, it is legal for a housing provider in a majority of states across the country to deny housing to people because they are gay, lesbian, transgender, unmarried, or a recipient of housing subsidies. NFHA strongly advocates the expansion of the Fair Housing Act to prohibit discrimination based on sexual orientation, gender identity, marital status, and source of income.
NFHA engages in systemic housing discrimination investigations when there is reason to believe fair housing laws are being violated. They also engage in efforts to resolve and remedy acts of discrimination.
NFHA filed a housing discrimination lawsuit against Fannie Mae in federal district court in San Francisco, California, claiming Fannie Mae purposely failed to maintain its foreclosures in middle- and working-class African American and Latino neighborhoods to the same level of quality it does for foreclosures it owns in white middle- and working-class neighborhoods. They also filed an amended discrimination complaint against Bank of America for illegally discriminating in African American and Latino neighborhoods in six additional cities.
They filed a federal lawsuit alleging race, sex, and source of income discrimination against Travelers Indemnity Company and Travelers Casualty Insurance Company of America for failing to provide habitational insurance to apartment owners who rent to tenants who participate in the Housing Choice Voucher program.
Organizations such as the NFHhttps://nationalfairhousing.org/A work best with public support. Usually they require volunteers in order to get jobs like data collection, data validation done. People can also support this cause by promoting the NFHA's mission and making the public aware of the organization's goals. To learn more about the NFHA or to donate, visit